by Pam Martens and Russ Martens, Wall St On Parade: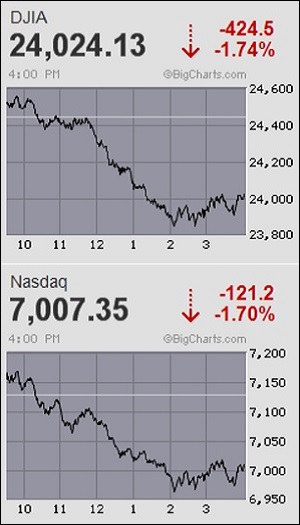 Wall Street knows something that the rest of us don't. Based on past experience, when Wall Street keeps secrets it never works out well for the rest of us. We're thinking about the time Wall Street banks colluded on rigging prices on the Nasdaq market; or the time they rigged their research departments and told us to buy stocks that they were secretly callings dogs and crap; or the time they got S&P and Moody's to give them triple-A ratings on subprime pools of debt while keeping it a secret that they had internal reports showing the loans didn't meet their origination standards — and then they went out and secretly shorted that debt while continuing to sell it to their customers as a good investment.
Yesterday, something decidedly weird happened as U.S. stock markets were being pummeled. Three of the biggest Wall Street banks – JPMorgan Chase, Bank of America and Citigroup – handily outperformed the broader market. That's an anomaly that simply doesn't make sense unless some type of manipulation is going on. The banks should be trading at least in line with the broader market and, more realistically, worse than the broader market because they hold loans to the companies that are collapsing in price. On top of that, these three banks hold trillions of dollars in derivatives which are hard to quantify using any measure of safe and sound banking practices. And on top of that, according to the U.S. Treasury's Office of Financial Research, Wall Street banks are holding massive exposure to European entities, including hundreds of billions of dollars in off-balance-sheet credit derivatives – the instruments that played a significant role in blowing up Wall Street in 2008.
And yet, somehow, these three banks lost just a tad more than one-third of the losses of the broader market yesterday. The S&P 500 Index lost 1.34 percent; the Russell 3000 lost 1.24 percent; the Nasdaq lost 1.70 percent and the Dow Jones Industrial Average of 30 big cap stocks lost 1.74 percent. (The Dow was down more than 600 points intraday and then trimmed its losses to close down 424.5 points.)
Read More @ WallStOnParade.com