by Wolf Richter, Wolf Street: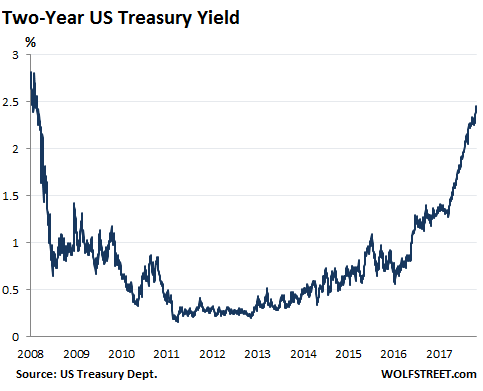 The Fed's new paradigm.
The three-month Treasury yield closed at 1.81% on Friday. It has been at about this level since before the Fed's March 21 meeting, when it hiked its target range for the federal funds rate to 1.50%-1.75%. In other words, the three-month yield had been trading above the upper limit of the Fed's range even before it was announced. So the rate hike was fully priced in, plus some, in preparation for another rate hike in June. This is up from 0% in 2015 when lots of folks said that the Fed could never raise interest rates again.
The two-year yield had no such moment of rest. It rose to 2.46% on Friday, the highest since August 11, 2008, and up from 2.31% on rate-hike day in March: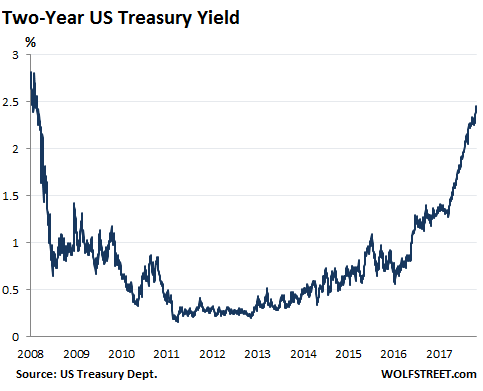 As bond yields rise, bond prices fall by definition. So a rising-yield environment can be tough on holders of bonds with longer maturities.
Ten-year Treasury yields moved only sporadically, wavering, or even declining as short-term yields soared, but then shot higher, before taking another break. Now it's shooting higher again.
On Friday, the 10-year yield rose to 2.96%, the highest close since January 9, 2014. It's tantalizingly close to 3% and appears to be setting up for a another try at breaking the 3% level. If the 10-year yield closes at 3.05% — just 9 basis points higher than Friday's close — it will be the highest close since July 2011: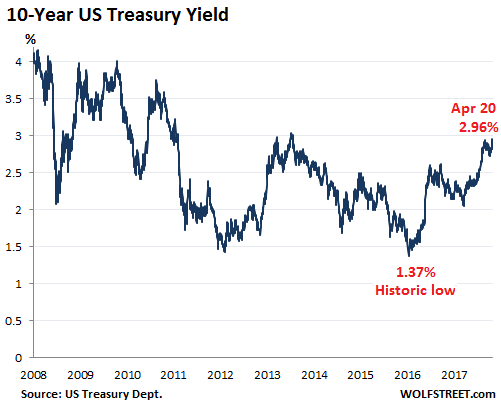 In mid-February, as the 10-year yield was soaring and threatened to take out the 3% level, I speculated that it would run into a wall over the near term, for two reasons: Enormous demand at the 3% level, and record short positions by hedge funds against the 10-year Treasury. This begged for a contrarian rally, or even a short squeeze. While the ensuing rally wasn't exactly spectacular, it pushed the yield down to 2.73% by early April. But since then, the 10-year has sold off again. Now with the yield at 2.96%, it might try to make another run at breaking 3%.
It might not succeed this time. But it will succeed sooner rather than later. Of note, the two-year yield has not yet run into this kind of wall of resistance as of yet.
As in the prior three rate-hike cycles going back to the 1990s, the two-year yield has reacted faster to rate hikes than the 10-year yield. While the 10-year yield tends to surge later in the cycle, the two-year yield also surges and has a tendency to overshoot late in the cycle.