by Anonymous 411, The Organic Prepper: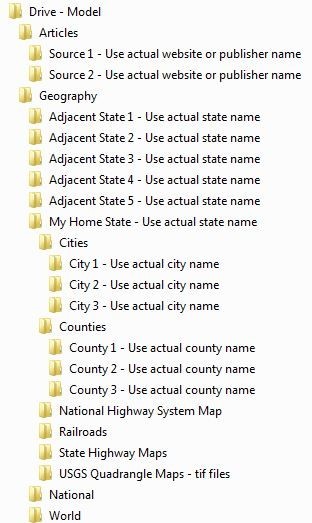 Information Collection for the Prepper – Part 3
The most important maps discussed in this article are the Quadrangle Maps, County Highway Maps, and the City and Town maps (incorporated areas). These maps will prove essential in Part 4 when we discover the locations of hospitals, fire and police stations, drugstores, gas stations/convenience stores, sporting goods stores, grocery stores, walk-in clinics, military and national guard bases and armories, and much more. It will be worth the effort to find and download these maps.
Why would you want to include maps in your disaster preparations? Remember that after the SHTF it is very unlikely that your cell phone or dedicated mapping GPS device will be working.
You may plan to travel or may unexpectedly be required to travel to another location during a disaster, which may require you to use alternate routes. You can use maps to determine these routes for yourself rather than just following the crowd
You may want to determine the location of dangerous weather (tornados, hurricanes, winter storms, etc,) in relation to where you are
Determine the location of resources that you might want to travel to and alternate routes to get there (Part 4 will provide more information on this topic)
Determine locations and direction of travel of mobs, crowds, or potential enemy forces that you might hear about on the radio or TV
Locate military intelligence type information about potential or actual threats to your location that you might discover talking to fellow travelers
In Your Car: A must have for your car is a Rand McNally Road Atlas or equivalent. If you don't have one, get one today at your nearest bookstore, gas station, or buy online.
In your Bug-Out-Bag: Rand McNally sells state road maps in an Easy to Fold series. These maps are plastic-laminated so that you can mark on them and wipe it off. They are about one half the size of a comparable paper map, but won't be destroyed by rain or snow. I have one for my home state and all adjacent states.
Folder structure for the files you will download
Below is a model folder structure for organizing the files you download. If you follow my recommendations you will be downloading thousands of files, so some organized structure of folders must be used. Use actual names where indicated. The same folder structure shown under "My Home State" should be used under all the adjacent states folders too. We will be adding additional folders to this structure in Part 4.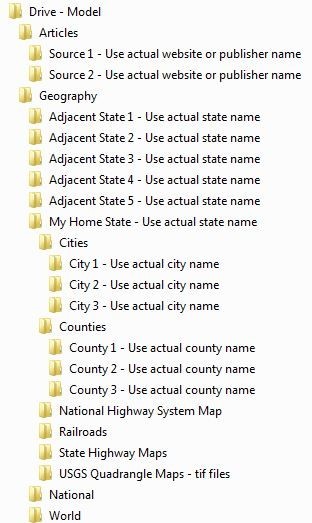 Read More @ TheOrganicPrepper.ca