by Stefan Stanford, All News Pipeline: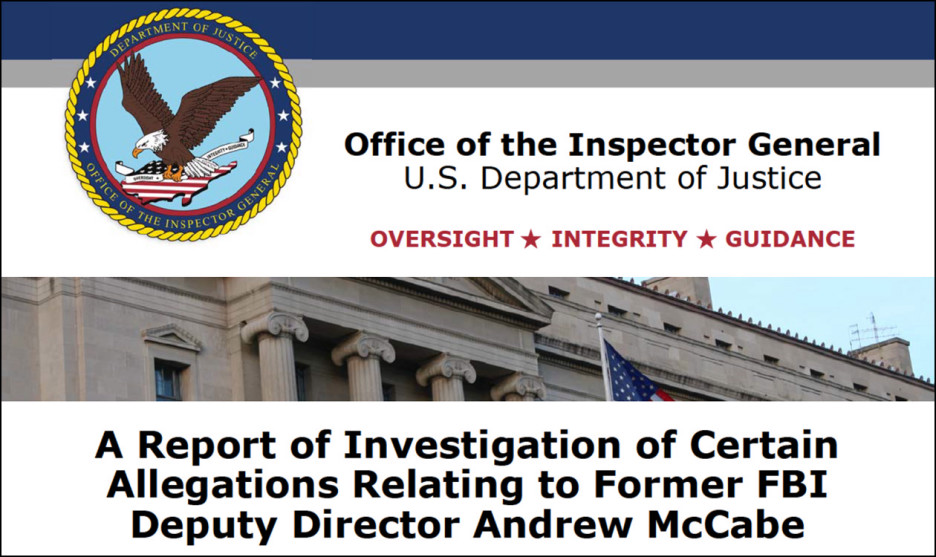 The Inspector General issues a scathing report against former FBI Deputy Director Andrew McCabe.
Background Information: The first in a series of long awaited DOJ Office of Inspector General reports has been released as a result of a year-long investigation into multiple allegations of misconduct by Department and FBI officials. The first announcement of initiation of review was released on January 12, 2017, and highlights specific issues, shown below.
• Allegations that Department or FBI policies or procedures were not followed in connection with, or in actions leading up to or related to, the FBI Director's public announcement on July 5, 2016, and the Director's letters to Congress on October 28 and November 6, 2016, and that certain underlying investigative decisions were based on improper considerations;
• Allegations that the FBI Deputy Director should have been recused from participating in certain investigative matters;
• Allegations that the Department's Assistant Attorney General for Legislative Affairs improperly disclosed non-public information to the Clinton campaign and/or should have been recused from participating in certain matters;
• Allegations that Department and FBI employees improperly disclosed non-public information; and
• Allegations that decisions regarding the timing of the FBI's release of certain Freedom of Information Act (FOIA) documents on October 30 and November 1, 2016, and the use of a Twitter account to publicize same, were influenced by improper considerations.
If circumstances warranted, the OIG retained the option to consider other issues that may arise during the course of the review.
As to that last caveat in the initial announcement, throughout the year we have seen multiple members from a variety of agencies reassigned, demoted and in the case of Andrew McCabe, who is the subject of the first official IG report, terminated In March 2018, before becoming eligible for early pension, after he was removed from his post and forced to go on terminal leave in late January.
Due to the sheer amount of information the IG uncovered, involving issues that were not part of his original mandated scope, in December 2017, the IG released another statement indicating other issues would be included in the upcoming series of reports. The second statement highlighted "allegations involving communications between certain individuals, and will report its findings regarding those allegations promptly upon completion of the review of them."
Note- That additional mandate refers to text messages between FBI agent Peter Strzok and FBI special counsel Lisa Page. While their text messages are referred to in the first report on McCabe's misconduct, the report regarding their own misconduct is expected to come at a later date as part of the series of reports due to be released.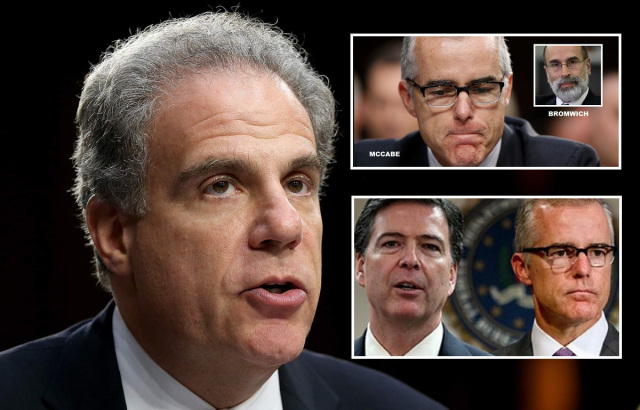 INVESTIGATION OF CERTAIN ALLEGATIONS RELATING TO FORMER FBI DEPUTY DIRECTOR MCCABE
As the title of the first report indicates, the IG started his release of reports with his investigation into "certain" allegations against former FBI Director Andrew McCabe, detailing the reasons why he was forced to step down and go on terminal leave and why the FBI's Office of Professional Responsibility recommended he be terminated just days before he became eligible for early pension.
The 39 PDF report is embedded below the summary and findings.
Long story short, the IG found that McCabe authorized leaks to the media that were not of "public interest" but did so instead for personal gain. He then lied multiple times, under oath, to the Office of Inspector general and others to cover up his leaks. He also attempted to lay blame on others for those leaks which were initiated by him.
Via the Summary and findings on pages 4-5 of the PDF, which clarifies the abbreviations of positions within the FBI being referred to throughout the entire report.
Read More @ AllNewsPipeline.com