by Geoffrey Grinder, Now The End Begins: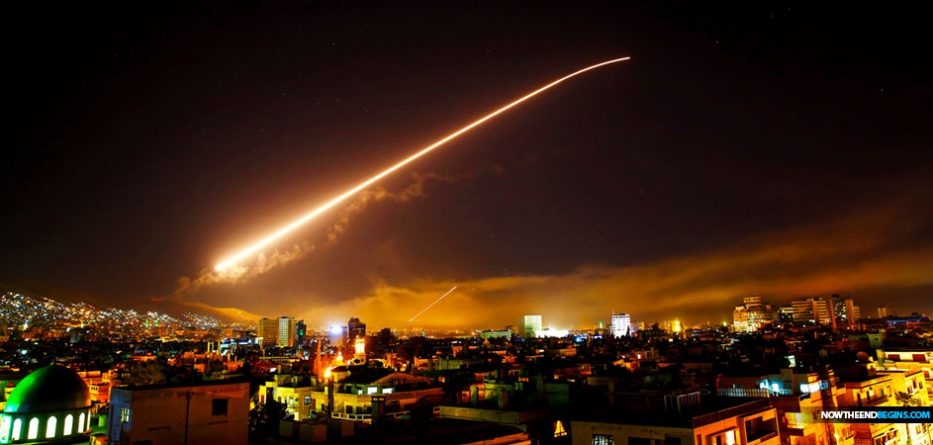 THE RUSSIAN MILITARY HAS CLAIMED THAT THE SYRIAN AIR DEFENCES, WHOSE MOST MODERN WEAPON IS A THREE-DECADES-OLD RUSSIAN-SUPPLIED ANTI-AIRCRAFT SYSTEM, SHOT DOWN 71 OF 103 MISSILES FIRED BY THE US AND ITS ALLIES, THE UK AND FRANCE.
EDITOR'S NOTE: As Russia claims that nearly 75% of inbound missiles were shot down by the Russian-backed Syrian air defense system, President Trump proclaimed on Twitter 'mission accomplished'. The UN is convening an emergency session for 11:00 AM EST this morning at the request of Vladimir Putin to discuss this situation. And what was the main target of the missile strikes last night? You guessed it, Damascus. Just no getting around Bible prophecy, is there?
As further details began to emerge about the sites targeted by the US-led strikes, Col Gen Sergei Rudskoi of the Russian military said the strikes had not caused any casualties and that Syrian military facilities suffered only minor damage.
Although it was not possible to verify the claims, the most up-to-date system that Moscow has supplied to the Syrian regime is the short range Pantsir S-1, which has an anti-missile capability.
Russia said its advisers had spent the last 18 months completely rebuilding the Syrian air defence system, and said the high number of intercepted rockets spoke to "the high effectiveness of the weaponry in Syria and the excellent training of Syrian servicemen prepared by our specialists".
Although Russia suggested that Syrian forces had been responsible for manning their own air defences, Russian advisers have a long history of operating systems in such situations.
VIDEO FOOTAGE THAT EMERGED IN THE AFTERMATH OF THE STRIKES APPEARED TO SHOW AIR DEFENCE MISSILES BEING LAUNCHED.
The Pantsir – which has reportedly been used in the past to shoot down several drones and missiles in Syria – is far more modern than Syria's other anti-aircraft systems that make up the backbone of the country's air defences, some of which which first came into service in the Soviet Union in the late 1950s and 60s.
While it was not possible to verify the claims, Syria claimed to have intercepted suspected Israeli missiles fired on a base earlier this month, while an Israeli jet was brought down in February.
Read More @ NowTheEndBegins.com