by Dave Hodges, The Common Sense Show: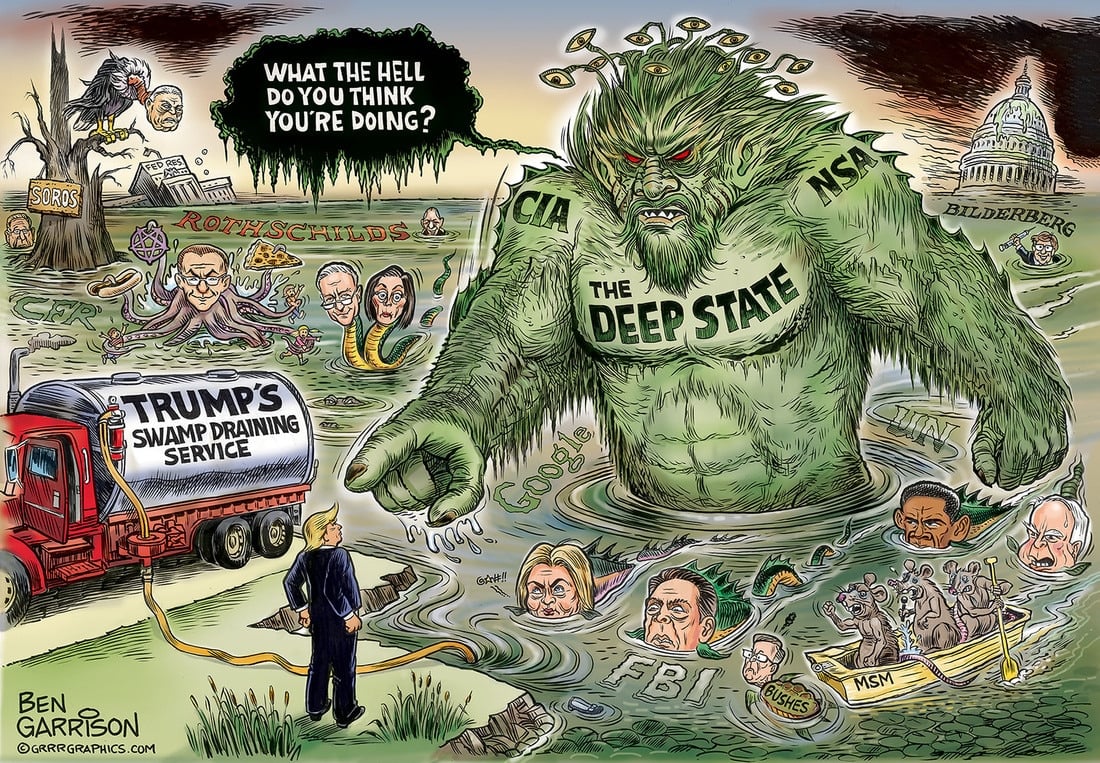 This is the first of a multi-part series in which the facts will move the readers in the direction of understanding the following, pre-planned and nation-ending set of events:
Because of the actions of 11 brave Congressional represenatives, all Republicans, the Deep State faces its biggest obstacle in furthering their prime directive which will culminate in tearing down the Republic and installing a Stalinist/Hitler hybrid tyrannical regime. This is the topic of Part One.
Part Two of this series focuses on the UN footholds established on American soil from which UN troops, in conjunction with their terrorist partners (eg ISIS, Mexican Drug Cartels, MS-13) are poised to take militarily takeover America as the domestic tranquility is interrupted. The UN will invoke the Kigali Principles to accomplish this goal.
Part Three will examine the Deep State/UN plans to convert the capital of the United States from Washington DC to Colorado. Please note that this event has already been rehearsed on two different occasions.
Part Four will examine who will win World War III and how we can tell where America will fight and lose this war. Hint, 90% of us will not survive and it is by design.
How Far Will the Deep State Go to Avoid Prosecution and Legal Dismantling?
I have posed the question, many times, how far is the Deep State willing to go to stay in power? Here is a small sample-size cross-section of typical answers:
Mike Adams– "They will detonate a nuke if they have to. They do not care how many people they have to kill to further their agenda."
Paul Martin– "The Deep State does not care how many people they have to kill. They would unleash the worst bioweapon, ever, if it meant staying in power…."
Paul Preston– "The Deep State is planning for and will commit genocide to further their aims."
These statements are common, they are typical of what all of my colleagues say about the nature of these people that comprise the Deep State. Do you all think I was kidding when I took Roger stone and Larry Nichols word that Hillary Clinton was a 4th Degree Coven Witch and exposed it? This was high-stakes journalism, but easily verifiable. At the end of the day, ladies and gentlemen, this conflict is about Satan vs. Jesus. This is the common denominator.
To those who thought your problems were solved when Donald Trump was elected, think again. Trump was a reprieve from Deep State, genocidal justice. If Hillary had been elected, many of us would have already taken us residence in a new location. God issued America a temporary stay of execution in order to get our spiritual house in order. Unfortunately, America is not taking full advantage of this gift from God.
There is a revival of sorts going on in which 11 brave US Congressmen are publicly demanding justice against the more visible members of the Deep State. Will these brave souls be able to stem the tide of tyranny? Perhaps, but we are running out of time.
Part One of this series explores how 11 representatives are trying to re-establish the rule of law.
A Full Frontal Assault Upon the Deep State
In last Wednesday's (April 18, 2018) letter to Attorney General Jeff Sessions, FBI Director Chris Wray, and U.S. Attorney John Huber, who was appointed to investigate GOP claims of FBI misconduct, the lawmakers refer Comey and McCabe for "investigation of potential violation(s) of federal statutes."
Clinton, former Attorney General Loretta Lynch, former Deputy Attorney General Sally Yates, and FBI General Counsel Dana Boente are also named in the letter.
The letter lays out allegations of criminal wrongdoing by Clinton, Comey, ex-FBI Deputy Director Andrew McCabe former Attorney General Loretta Lynch, former acting Attorney General Sally Yates, former acting Deputy Attorney General Dana Boente and FBI officials Peter Strzok and Lisa Page. The allegations span the horizon whith allegation of treason, obstruction, malfeasance of office, perjury and sedition. The letter is available at the end of this page.
Eleven Republican members of Congress signed the letter including Reps. Ron Desantis (Fla.), Andy Biggs (Ariz.), Dave Brat (Va.), Jeff Duncan (S.C.), Matt Gaetz, (Fla.), Paul Gosar (Ariz.), Andy Harris (MD), Jody Hice (Ga.), Tod Rokita (Ind), Claudia Tenney (N.Y.) and Ted Yoho (Fla.).
Congressman Gosar Speaks Out Against the Criminal Element That Has Dominated Our Government
In the first 30 minutes of the following video, Dave Hodges interviewed Arizona Congressman, Dr. Paul Gosar. In this interview. Congressman Gosar details the criminal nature of several high-ranking federal officials. This is the focal point of Part One of this series. Here Representative Gosar makes the case against these high-ranking officials with stunning detail.
Read More @ TheCommonSenseShow.com