by Wolf Richter, Wolf Street: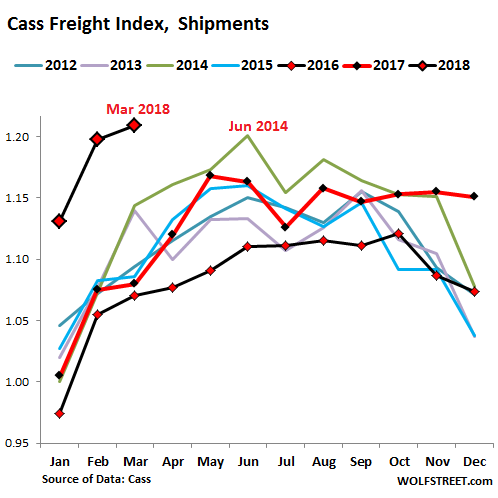 US shipping expenditures surge 15.6% from a year ago.
Shipment volumes in the US by truck, rail, air freight, and barge combined surged 11.9% year-over-year in March, according to the Cass Freight Index. This pushed the index, which is not seasonally adjusted, to its highest level for any month since 2007 and for any March since 2006:
After the US transportation recession in 2015 and 2016, the industry was recovering at an every faster pace. In the chart above, note how the red line (2017) outpaced the black line (2016). And 2018 has turned into a transportation boom. March is normally still in the slow part of the year, but this March blew past even June 2014, the banner month since the Financial Crisis!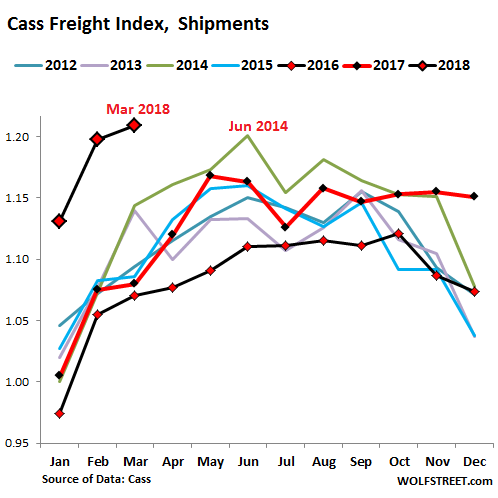 "Volume has continued to grow at such a pace that capacity in most modes has become extraordinarily tight," Cass explained. "In turn, pricing power has erupted in those modes."
The chart below shows the year-over-year percentage changes in the index for shipment volumes. Note the double-digits spikes over the past three months: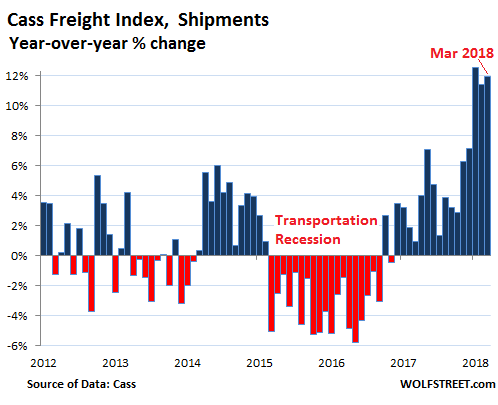 The index, which is based on $25 billion in annual freight transactions, according to Cass Information Systems, covers all modes of transportation — rail, truck, barge, and air — for consumer packaged goods, food, automotive, chemical, OEM, and heavy equipment but not bulk commodities, such as oil, coal, or grains.
This kind of surge in volume has consequences in this cyclical business. During the "transportation recession," orders for heavy Class 8 trucks collapsed, triggering lay-offs and throughout the truck and engine manufacturing industry. The opposite is now the case: Orders for heavy trucks are hitting records.