by Clint Siegner, Money Metals: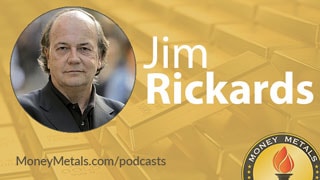 Coming up we'll hear from Jim Rickards – monetary insider, economist and best-selling author. Jim examines what the next financial crisis will look like and how it will be different from previous panics and also gives us his outlook for gold and what he sees as being the key drivers that will propel the yellow metal higher. Don't miss this fascinating conversation with Jim Rickards, coming up after this week's market update.
Gold and silver markets moved closer to major breakout levels this week. On Wednesday, the silver market surged past the $17 level on strong volume. As of this Friday recording, silver prices trade at $17.23 an ounce, 3.3% higher on the week. Silver is finally showing signs of positive momentum, but prices still need to clear $17.70 to make a new high for the year.
Click HERE to listen
Turning to gold, prices check in at $1,339 per ounce after falling off here during the later part of the week and now shows a 0.5% loss since last Friday's close. Like gold, platinum is lagging behind a bit and is essentially unchanged on the week at $933. And as for palladium, it was another big week thanks to more Russia supply fears – following last week's impressive 9% advance the white metal is up another 4.7% this week to bring prices $1,034 per ounce.
Well, millions of Americans breathed a sigh of relief this week after Tax Day. Republicans promise a less onerous tax code with lower rates for the 2018 tax year. Unfortunately, the GOP tax bill failed to rectify many of the inherent injustices built into the existing tax system.
For one, the IRS punishes savers and investors through a hidden inflation tax. That's because the law treats gains that occur because of currency devaluation as taxable events.
For example, if you sell a gold coin for 25% more dollars than you originally paid for it…but the price appreciation of that gold coin has merely kept up with inflation, then you have no gain in real terms. The gold coin retains the same purchasing power as when you bought it. Any taxes you owe would be a result of the U.S. dollar losing value.
When the government gets to tax its own inflation, it has little incentive to pursue sound monetary policies, to say the least. While most politicians like the inflation tax, Senator Ted Cruz last week announced he would introduce a bill to end it.
Sen. Ted Cruz: If you invest… let's say you invest a thousand dollars, and then 10 years later you sell whatever you've invested in for $2,000. Right now you're taxed on that full gain, ignoring inflation. Ignoring the fact that inflation has eaten away a big chunk of that gain. Indexing capital gains for inflation means you would be taxed on actually what you've gained, on the increase above and beyond inflation.