by Martin Armstrong, Armstrong Economics: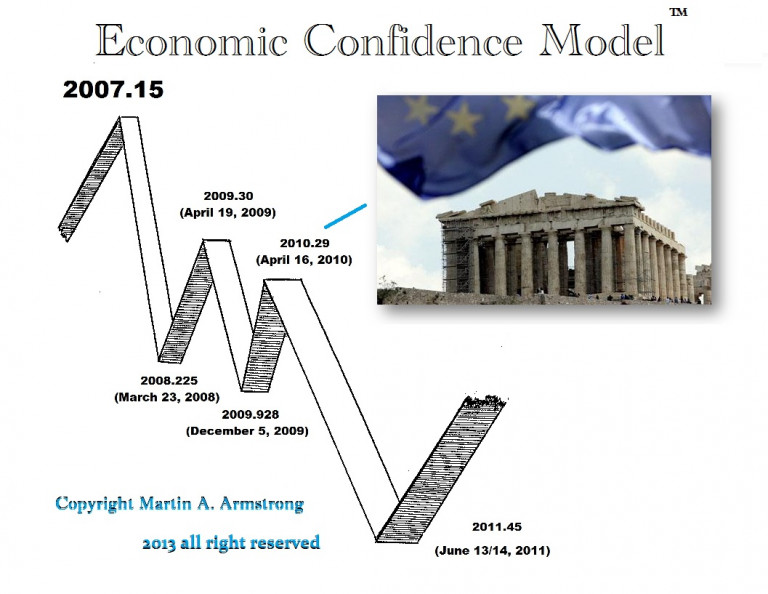 The entire EU Crisis began precisely on schedule on the Political Pi Turning point from the major high in 2007. Precisely on the day of the ECM turning point, April 16, 2010 (2010.29) Greece notified the IMF it was on the verge of bankruptcy. By April 22nd, the Euro fell to near year-low levels amid concerns about Greece's debt crisis. The IMF activated the loan facility and Greece received its first €45 billion on April 23rd, 2010. Then on May 9th, the IMF approved a bailout package for Greece with the largest loan and exceptional, fast-track access. Of course, that turning point of April 16th, 2010 was also the first time the SEC charged Goldman Sachs with outright FRAUD is selling its Mortgage Backed Securities.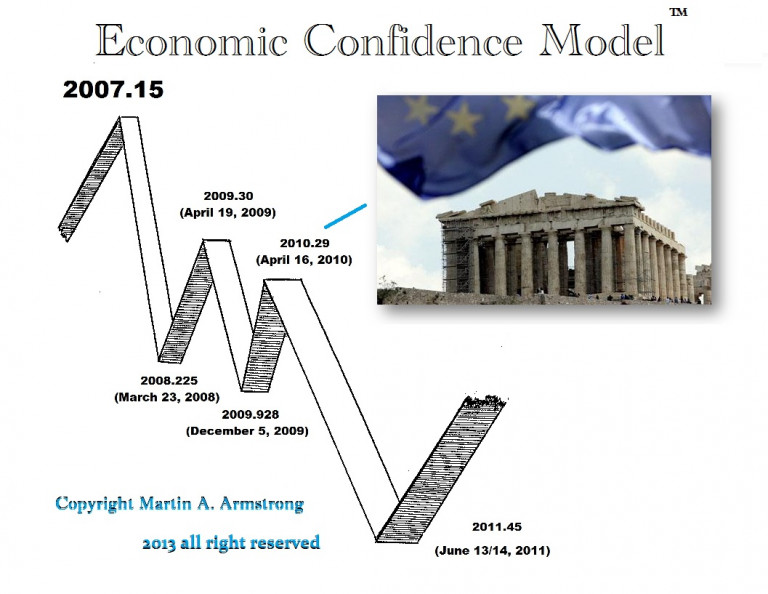 In dealing with Greece, the German head of state Chancellor Angela Merkel, had promised the German taxpayers that any loan to Greece they will be held to the fire and forced to repay. The polls were turning hard against Merkel as she was being bashed in the world press for Greece had forgiven Germany's debt after World War II, but Merkel refused to provide any relief for Greece because of her campaign promise. The divert the press from here hardline policy on Greece, Merkel then summarily announced that she would take the refugees from Syria with open arms. That then began the European Refugee Crisis and Merkel then force the rest of Europe to share the burden she created unilaterally. The entire European Refugee Crisis was created by Merkel, and this has been at the center of the crisis which is tearing Europe apart at the seams. That came as the next ECM wave turned from its peak 2015.75.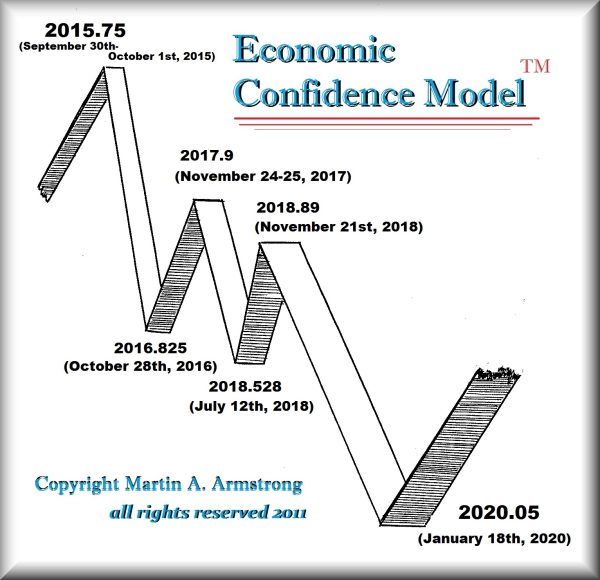 Now as we approach the next political Pi Turning Point due on November 21st, 2018, which will be 8.6 years from when the Greek debt crisis began, the EU Commission has demanded from the Eurozone states that debt relief should be provided to Greece. "We need to find a mechanism that will ease the debt burden that is on the Greek people today," EU Economic Affairs Commissioner Pierre Moscovici said Friday at a meeting of Eurozone finance ministers in Sofia. The creditors would have to show "solidarity with Greece" in order to secure the recovery of the long-term crisis country.
Read More @ ArmstrongEconomics.com