by Wolf Richter, Wolf Street: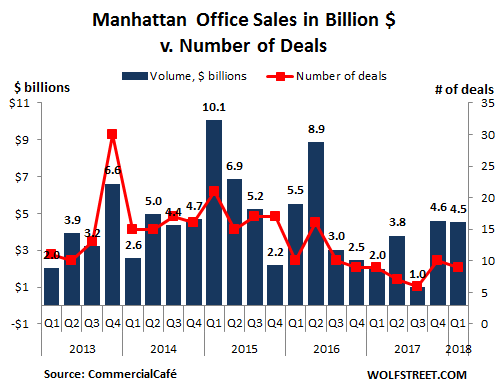 One mega deal at a mega price. The rest was dreary.
Chinese entities – such as the conglomerates – were once the dominant buyer in US trophy office markets, such as Manhattan. It ended with a big bang in the second quarter of 2017 when Chinese entities accounted for half of the commercial real estate volume in Manhattan, including its sixth largest transaction ever, the $2.2 billion purchase of 245 Park Avenue by the conglomerate HNA Group. It paid $1,282 per square foot, as it was called, "among the highest price per pound for this type of asset." It was the last big Chinese property purchase in Manhattan.
But Google blew that deal out of the water, with its $2.4 billion acquisition of the iconic eight-story Chelsea Market at 75 Ninth Ave in Q1 this year. This was the second largest deal ever to close in Manhattan. And Google paid a breath-taking $2,181 per square foot. We will never again laugh about the inflated prices Chinese buyers were paying.
The property, built in 1934, now has 1.1 million square feet of office and retail space. It used to be the factory of National Biscuit Co. (later renamed Nabisco) where the Oreo cookie was invented and produced.
CommercialCafé, a division of Yardi, added in its report:
Nowadays, the property houses an eclectic mix of high-profile tenants, including Google, YouTube, the Food Network, and EMI. New owner Google also owns the building across the street at 111 Eighth Ave., which it acquired back in 2010 for $1.8 billion.
And here is what that Google deal did to the Manhattan office market: It more than doubled the total volume of sales! Without the Google deal, total transaction volume would have been $2.12 billion. With the Google deal, it jumped to $4.52 billion!
With only nine major deals in Q1 (red line, left scale in the chart below), Google's mega-deal seriously moved the needle. But there weren't enough of these mega-deals to bring back the good old days of Q1 2015, when 21 deals were made for a total of $10.1 billion (blue bars, left scale):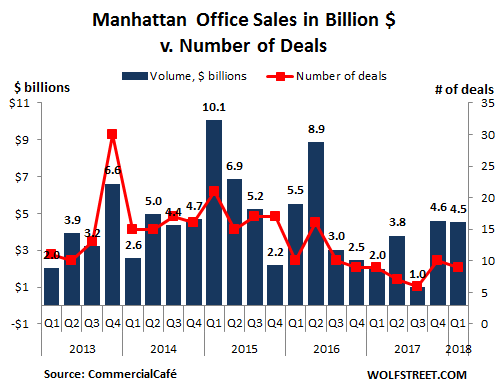 This according to CommercialCafé, which used Yardi Matrix data to analyze all Manhattan office transactions recorded through April 5, 2018, of $5 million or more, and larger than 50,000 square feet. In the case of mixed-use properties, only those with over 50% office space were taken into account.