by Susan Duclos, All News Pipeline: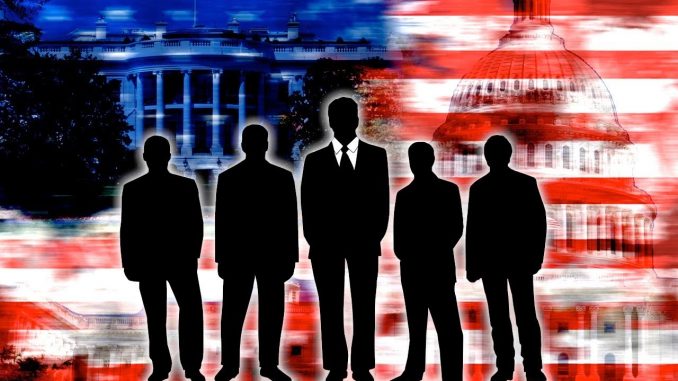 Remember when Independent Media would refer to the "Deep State" and the mainstream media would screech "Conspiracy theory!"?
Well, those days are gone as now the MSM not only admits to the existence of a group or a cabal of un-elected officials determined to steer the political direction of the nation, to determine who should and shouldn't be "selected" (read "elected") and to basically control the populace, but now the mainstream liberal media, while admitting to its existence, attempts to convince Americans the cabal's actions are justified or unsuccessfully attempting to redefine what the Deep State is.
While more independent news sources, such as Wall Street Journal, understand the complexity and dangers of the "Deep State," the fact is the existence itself is no longer hidden behind the term "conspiracy," but is acknowledged openly since the election of president Trump, as their antics, their probable crimes are now a matter of public record and criminal investigations have been recommended by DOJ Office of Inspector General, an Obama appointee no less, and have begun with the criminal referral of Former FBI Deputy Director Andrew McCabe, and the investigation into the former FBI Director James Comey's actions. There are also investigations into former CIA Director John Brennan for perjury, and former Director of National Intelligence James Clapper's leaking of information to CNN, to name just a few of the "deep state" members now under investigation.
FORMER INTEL OFFICIALS NOW ADMIT THE EXISTENCE OF THE 'DEEP STATE'
Just days ago Stefan Stanford highlighted how former FBI Director James Comey admitted to the existence of the Deep State, describing them as "a collection of people, CIA, NSA, FBI in the United States military services who care passionately about 'getting it right'", but with Comey now engulfed in his own scandal, his attempt to justify a group of people acting in a lawless manner by claiming they are "working toward what they see as the interests of the United States," is about as self-serving as it gets considering he was one of those members he is attempting to excuse.
Which brings us to another former high ranking intelligence community member, not only admitting the deep state is a "real phenomenon," but doing so in a ultra liberal paper, The Guardian, and is a known Trump critic, yet he delves into how dangerous this cabal of un-elected officials truly is.
His name is Jack Goldsmith and his credentials are impressive.He was with the Bush administration as legal adviser to the General Counsel of the Department of Defense. In 2003 Goldsmith was appointed as a U.S. Assistant Attorney General, as he led the Office of Legal Counsel in the DOJ. He worked under both AG John Ashcroft and Deputy Attorney General James Comey. He is currently a Henry L Shattuck professor of law at Harvard University and a senior fellow at the Hoover Institution.
His most recent article at the liberal site The Guardian, is titled "The 'deep state' is real. But are its leaks against Trump justified?" In relation to the Deep State, he begins by saying "Even the most severe critics of the US president should worry about this subtle form of anti-democratic abuse."
The deep state has been blamed for many things since Donald Trump became president, including by the president himself. Trump defenders have used the term promiscuously to include not just intelligence bureaucrats but a broader array of connected players in other administrative bureaucracies, in private industry, and in the media.
But even if we focus narrowly on the intelligence bureaucracies that conduct and use information collected secretly in the homeland, including the FBI, National Security Agency (NSA), and National Security Council, there is significant evidence that the deep state has used secretly collected information opportunistically and illegally to sabotage the president and his senior officials – either as part of a concerted movement or via individuals acting more or less independently.
After detailing what he terms as "unusually sensitive leaks of intelligence information designed to discredit him and his senior leadership," that has "poured forth from current and former intelligence officials in the deep state," he goes on to provide some of the egregious examples of those leaks.
Read More @ AllNewsPipeline.com