by Susan Duclos, All News Pipeline: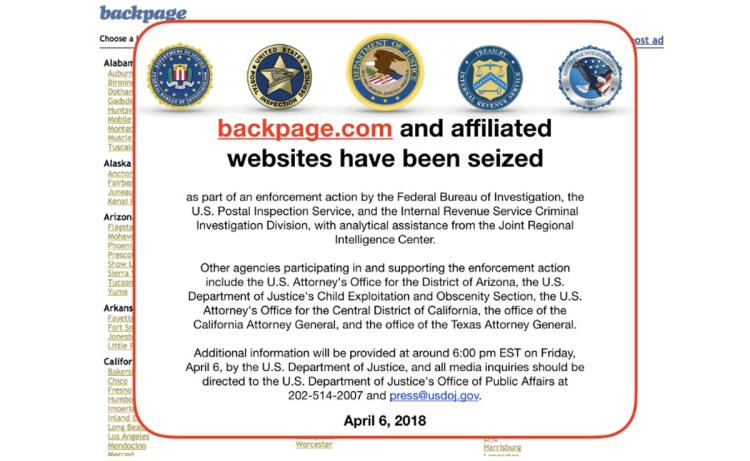 On April 6, 2018 the U.S. federal government seized ad listing service Backpage.com and affiliated websites, "as part of an enforcement action by the Federal Bureau of Investigation, the U.S. Postal Inspection Service, and the Internal Revenue Service Criminal Investigation Division, with analytical assistance from the Joint Regional Intelligence Center," the notice states when one clicks onto Backpage.com.
The adult section of the website's ad services has been the topic of controversy and under investigation for being involved with sex-trafficking and the sexual exploitation of minors. The adult services subsection was ultimately removed in 2017 after a series of court cases and the arrest of the company's CEO, Carl Ferrer, and other company officials, including owners (former) and founders Michael Lacey and James Larkin.
While we try not to rely on Wikipedia, I have independently fact-checked their Backpage category "Arrest of CEO and corporate officers," and found that it accurately described and sourced the years of court cases, simply to provide the history, but long story short, the courts dismissed the charges against those arrested claiming the website officials could not be held accountable due to "liability immunity" under section 230 of the Communications Decency Act (CDA).
In late-March 2018 and early-April 2018, courts in Massachusetts and Florida affirmed that Backpage's facilitation of sex trafficking fell outside of the immunity granted by Section 230 safe harbors. The latter ruling argued that because Backpage "materially contributed to the content of the advertisement" by censoring specific keywords, it became a publisher of content and thus no longer protected.
Hence the seizing of the website and new federal charges filed against the site's co-founder Michael Lacey as well as a raid on his Sedona home.
BACKPAGE OWNERS/FOUNDERS DONATED HEAVILY TO DEMOCRATS AND HILLARY CLINTON
A flashback to an article from April 2017 reminds us that the owners/founders of Backpage donated heavily to Democratic politicians in Arizona, New Mexico and Colorado in recent years.
All told, the two men have made federal and state political contributions of $162,200 since 2013 — $60,200 of that to Arizona politicians and political committees, and $10,600 of that to U.S. Rep. Kyrsten Sinema in 2013 and 2016, according to an analysis of state and federal campaign-finance records. She was the biggest individual beneficiary of their donations in Arizona.
Federal campaign-finance records show Sinema received an additional $10,800 in donations from the spouses of two other Backpage executives on the same day in 2016 when Lacey donated $5,400 to her. Those executives, Scott Spear and John Brunst, and their spouses have made federal contributions of $195,700 since 2013, $29,700 of that to Arizona politicians. The donations from Spear and Brunst mirror many of those made by Lacey and Larkin.
The Arizona Democratic Party took $40,000 from the two men last year, three months before they faced their first criminal charges in California. Asked if the party intended to keep the $40,000, a spokesman, Enrique Gutiérrez, said the money had already been spent.
Read More @ AllNewsPipeline.com