by Mike Gleason, Money Metals: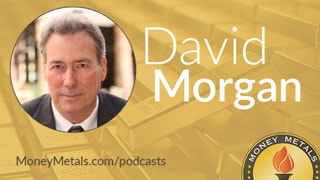 Welcome to this week's Market Wrap Podcast, I'm Mike Gleason.
Later in today's program we'll hear from David Morgan of The Morgan Report and we highlight a very interesting set-up in the silver market that could lend itself to significantly higher prices. David also shares his thoughts on the price levels he wants to see before getting too excited — and he updates us on the gold to silver ratio. So stick around for another great interview with David Morgan, coming up after this week's market update.
Gold and silver markets continue to be trapped between support and resistance levels. The precious metals treaded water through Thursday's close, trading little changed on the week. As of this Friday recording, gold prices come in at $1,334 an ounce, up 0.6% on the week. Silver trades up 0.2% this week to $16.44 per ounce.
Click HERE to listen
Turning to the platinum and palladium markets, a more bearish picture took shape this week. Platinum posts a 2.1% weekly loss to come in at $916. The platinum to gold ratio has now broken down to an historic new low below 0.7 to 1.
Platinum now represents one of the greatest relative value opportunities that's ever existed in the metals space. But investors will have to be patient, as platinum has traded at a discount to gold for more than three years now. And it isn't showing any signs of positive momentum at the moment.
Meanwhile, palladium prices took a 5.0% hit this week to trade at $905 per ounce. Yes, it's just below platinum now. Palladium has taken it on the chin so far in 2018 after posting stellar gains in 2017.
The world's supplies of the platinum group metals come largely from South Africa. Mining output there is set to shrink significantly in the months ahead. Leading South African platinum producer Anglo American Platinum has announced a freeze on new capital investment. Another South African major, Impala Platinum Holdings, is shutting down mining shafts and laying off workers to try to conserve cash amidst poor market conditions.
South African miners also face growing political risk from the country's socialist and increasingly rapacious government. Property rights and the rule of law are now under threat in South Africa, and that could further discourage companies from investing in mining operations there. The ruling African National Congress recently moved to begin confiscating white-owned farms without compensation.