by John W. Whitehead, Rutherford Institute: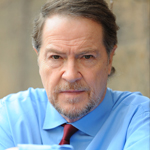 Is ours a government of the people, by the people, for the people, or a kakistocracy rather, for the benefit of knaves at the cost of fools?"— James Russell Lowell, 19th century American novelist
Let us not mince words.
We are living in an age of war profiteers.
We are living in an age of scoundrels, liars, brutes and thugs. Many of them work for the U.S. government.
We are living in an age of monsters.
Ask Donald Trump. He knows all about monsters.
Any government that leaves "mothers and fathers, infants and children, thrashing in pain and gasping for air" is evil and despicable, said President Trump, justifying his blatantly unconstitutional decision (in the absence of congressional approval or a declaration of war) to launch airstrikes against Syria based on dubious allegations that it had carried out chemical weapons attacks on its own people. "They are crimes of a monster."
If the Syrian government is a monster for killing innocent civilians, including women and children, the U.S. government must be a monster, too.
In Afghanistan, ten civilians were killed—including three children, one an infant in his mother's arms—when U.S. warplanes targeted a truck in broad daylight on an open road with women and children riding in the exposed truck bed. They had been fleeing airstrikes on their village.
In Syria, at least 80 civilians, including 30 children, were killed when U.S.-led air strikes bombed a school and a packed marketplace.
In Yemen, a U.S. drone bombed a caravan of vehicles on their way to or from a wedding, leaving "scorched vehicles and body parts … scattered on the road." As investigative journalist Tom Engelhart documents, that 2013 bombing was actually the eighth wedding party (almost 300 civilians dead) wiped out by the U.S. military, totally or in part, since the Afghan War began in 2001. "Keep in mind that, in these years, weddings haven't been the only rites hit," notes Engelhart. "US air power has struck gatherings ranging from funerals to a baby-naming ceremony."
Then there was a Doctors without Borders hospital in Kunduz that had 12 of its medical staff and 10 of its patients, including three children, killed when a U.S. AC-130 gunship fired on it repeatedly. Some of the patients were burned alive in their hospital beds.
Yes, on this point, President Trump is exactly right: these are, indeed, the crimes of a monster.
Unfortunately, this monster—this hundred-headed gorgon that is the U.S. government and its long line of political puppets (Donald Trump and before him Obama, Bush, Clinton, etc.), who dance to the tune of the military industrial complex—is being funded by you and me.
The blood of innocent civilians is on our hands whether we choose to recognize it or not.
It is our tax dollars at work here, after all.
Unfortunately, we have no real say in how the government runs, or how our taxpayer funds are used.
We have no real say, but we're being forced to pay through the nose, anyhow, for endless wars that do more to fund the military industrial complex than protect us, pork barrel projects that produce little to nothing, and a police state that serves only to imprison us within its walls.
The only alternative to paying one's taxes is jail, and there are few people willing to go to jail for a principle anymore.
Still, while we may not have much choice in the matter of how our taxes are used, we still have a voice and a vote, and it's time the American people made their voices—and their votes—heard about the way our taxes are used and misused by this government of wolves and thieves and liars.
Consider: we get taxed on how much we earn, taxed on what we eat, taxed on what we buy, taxed on where we go, taxed on what we drive, and taxed on how much is left of our assets when we die.
Indeed, if there is an absolute maxim by which the federal government seems to operate, it is that the American taxpayer always gets ripped off.
This is true whether you're talking about taxpayers being forced to fund high-priced weaponry that will be used against us, endless wars that do little for our safety or our freedoms, or bloated government agencies such as the National Security Agency with its secret budgets, covert agendas and clandestine activities. Rubbing salt in the wound, even monetary awards in lawsuits against government officials who are found guilty of wrongdoing are paid by the taxpayer.