by Wolf Richter, Wolf Street: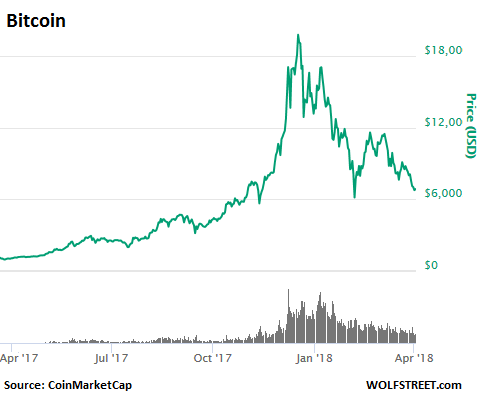 But nothing goes to heck in a straight line.
I don't think there has ever been an entire sector that skyrocketed as much and collapsed as quickly as the cryptocurrency space. The skyrocketing phase culminated at the turn of the year. Then the collapse phase set in, with different cryptos choosing different points in time.
It doesn't help that regulators around the world have caught on to these schemes called initial coin offerings (ICOs), where anyone, even the government of Venezuela, can try to sell homemade digital tokens to the gullible and take their "fiat" money from them and run away with it. There are now 1,596 cryptocurrencies and tokens out there, up from a handful a few years ago. And the gullible are getting cleaned out.
And it doesn't help that the ways to promote these schemes are being closed off, one after the other.
At the end of January, Facebook announced that, suddenly, "misleading or deceptive ads have no place on Facebook," and it prohibited ads about ICOs and cryptos.
On March 14, Google announced that it will block ads with "cryptocurrencies and related content," including ICOs, cryptocurrency exchanges, cryptocurrency wallets, and cryptocurrency trading advice. Its crackdown begins in June.
On March 26, Twitter announced that it would ban ads of ICOs, cryptocurrency exchanges, and cryptocurrency wallet services, unless they are by public companies traded on major stock markets. It will roll out its policy over the next 30 days.
On March 29, MailChimp, a major email mass-distribution service, announced that it will block email promos from businesses that are "involved in any aspect of the sale, transaction, exchange, storage, marketing or production of cryptocurrencies, virtual currencies, and any digital assets related to an Initial Coin Offering." This broadened and tightened its policy announced in February that promised to shut down any account related to promos of ICOs or blockchain activity.
The overall cryptocurrency space, in terms of market capitalization, peaked on January 4, when market cap reached $707 billion, according to CoinMarketCap. Less than three months later, market cap has now plunged by 65% to $245 billion. $462 billion went up in smoke.
Here's how the top five cryptos did over the past few months. Together they account for 76% of the total market cap of the space:
Bitcoin plunged 67% from its peak of $19,982 on December 17, to $6,573 at the moment. In just over three months, its market cap collapsed by $225 billion, from $336 billion to $111 billion. But as this chart shows, nothing goes to heck in a straight line (chart via CoinMarketCap):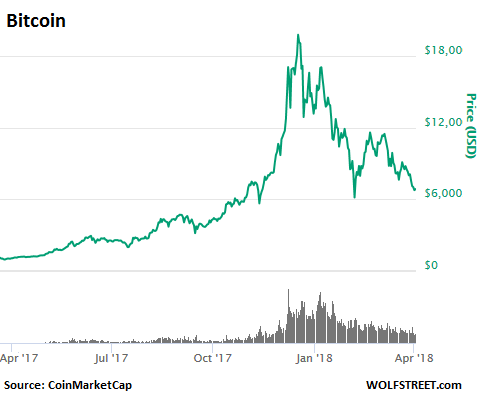 Ethereum plunged 74% from its peak of $1,426 on January 13, to $367 at the moment. Market cap collapsed by $102 billion, from $138 billion to $36 billion (chart via CoinMarketCap):