by Wolf Richter, Wolf Street: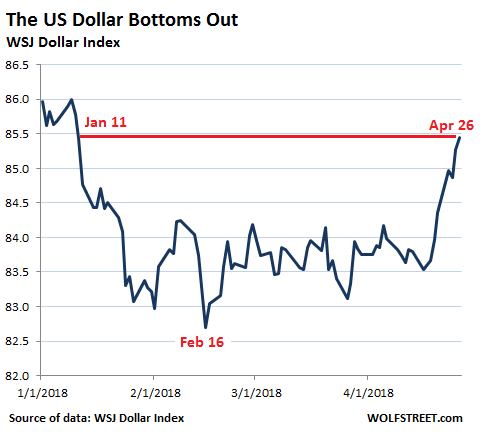 Fed's relentless rate hikes and accelerating QE unwind take effect.
The dollar inched up again today, one more step in a series of increases that started on April 17. It has risen 2.3% in those seven trading days, based on the WSJ Dollar Index (BUXX), which tracks the dollar against 16 other currencies including the Mexican peso and the Chinese renminbi, and it has risen 2.4% based on the Dollar Index (DXY), which tracks the dollar against six other currencies,.
From its recent low on February 16 — the lowest point since December 25, 2014 – the dollar has now risen 3.6% and is back where it had been on January 11: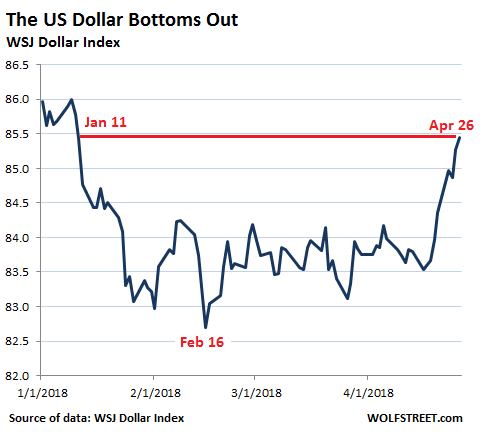 After its peak on January 3, 2017, the dollar dropped nearly 12% in 14 months, dissed and kicked around by various voices in the White House as soon as they'd moved in, including Treasury Secretary Steve Mnuchin at every opportunity he gets.
This chart shows the dollar since the November 2016 election, via its recent peak in January 2017, the low in February 2018, and the uptick since: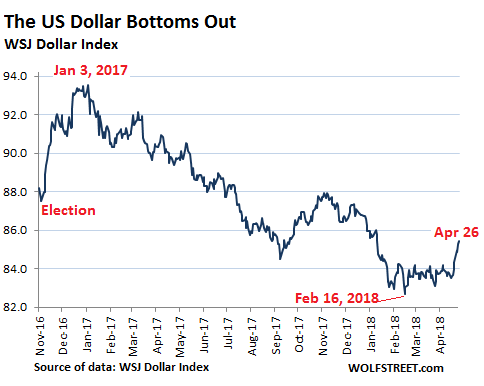 Over the longer term, it becomes clear how the Fed's tapering and then the end of QE in late 2014 had lit a fire under the dollar, and it began to surge, from July 2014 into January 2016. This was followed by a sell-off – enough is enough, the market said – that lasted through the summer of 2016. And after the election, the dollar surged again for two months, as part of the initial Trump bump, till January 3, 2017, before cratering for 14 months until February 16, 2018: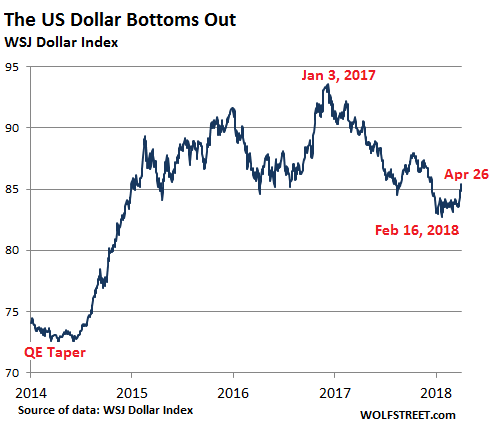 The Fed's unperturbed and increasingly well-pronounced rate-hike path and the now accelerating QE unwind have pushed the US Treasury six-month yield above 2%, in an environment where the six-month German and Japanese government yields are still negative (-0.62% and -0.15% respectively). This disconnect has finally started to sink in. And it has become clear to the markets that the Fed is actually doing what many market players had said the Fed could never do: raise rates substantially and begin shedding the securities it had acquired during QE, while other central banks were still trying to water down their currencies.
This has now put a floor under the dollar.