by Pam Martens and Russ Martens, Wall St On Parade: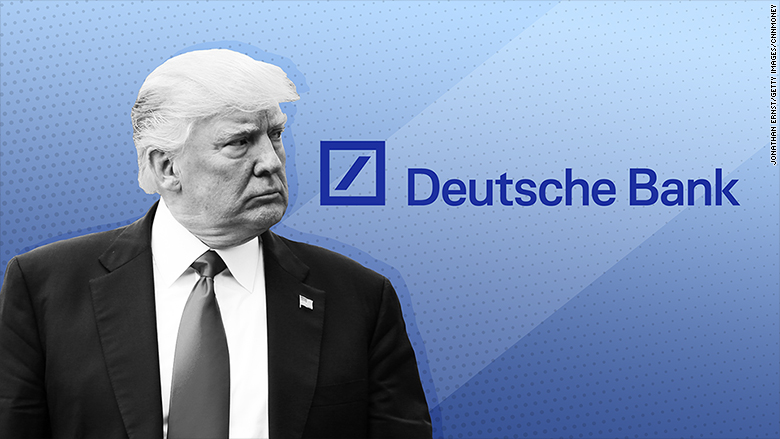 It now appears that a major contributing factor to the abrupt shutdown of the Russia-Trump probe by the House Intelligence Committee was a fear that the Committee was getting too close to Trump's dealings with Deutsche Bank and Deutsche Bank's dealings with Russia.
The draft report released by the Democrats after belatedly learning that their Republican colleagues had abruptly ended the probe, included this paragraph:
"Donald Trump's finances historically have been opaque, but there have long been credible allegations as to the use of Trump properties to launder money by Russian oligarchs, criminals, and regime cronies. There also remain critical unanswered questions about the source of President Trump's personal and corporate financing. For example, Deutsche Bank, which was fined $630 million in 2017 over its involvement in a $10 billion Russian money-laundering scheme, consistently has been the source of financing for President Trump, his businesses, and his family. We have only begun to explore the relationship between President Trump and Deutsche Bank, and between the bank and Russia."
Deutsche Bank's "$10 billion Russian money-laundering scheme" which became known by the shorthand term "mirror trades," was the subject of a May 23, 2017 letter sent by Maxine Waters, the ranking member of the House Financial Services Committee and other House Democrats to John Cryan, CEO of Deutsche Bank. The letter began:
"We write seeking information relating to two internal reviews reportedly conducted by Deutsche Bank ("Bank"): one regarding its 2011 Russian mirror trading scandal and the other regarding its review of the personal accounts of President Donald Trump and his family members held at the Bank. What is troubling is that the Bank to our knowledge has thus far refused to disclose or publicly comment on the results of either of its internal reviews. As a result, there is no transparency regarding who participated in, or benefited from, the Russian mirror trading scheme that allowed $10 billion to flow out of Russia. Likewise, Congress remains in the dark on whether loans Deutsche Bank made to President Trump were guaranteed by the Russian Government, or were in any way connected to Russia. It is critical that you provide this Committee with the information necessary to assess the scope, findings and conclusions of your internal reviews.

"Deutsche Bank's failure to put adequate anti-money laundering controls in place to prevent a group of traders from improperly and secretly transferring more than $10 billion out of Russia is concerning. According to press reports, this scheme was carried out by traders in Russia who converted rubles into dollars through security trades that lacked any legitimate economic rationale. The settlement agreements reached between the Bank and the New York Department of Financial Services as well as the U.K. Financial Conduct Authority raise questions about the particular Russian individuals involved in the scheme, where their money went, and who may have benefited from the vast sums transferred out of Russia. Moreover, around the same time, Deutsche Bank was involved in an elaborate scheme known as 'The Russian Laundromat,' 'The Global Laundromat,' or 'The Moldovan Scheme,' in which $20 billion in funds of criminal origin from Russia were processed through dozens of financial institutions."
Waters has now come into Trump's crosshairs. In a speech in Pennsylvania on Saturday evening, he referred to her as "a low IQ individual." (The problem for Trump seems to be something very different: Waters' ability to connect the dots and see a theory of the case that involves money laundering and quid pro quo.)
Also in May of last year, Reuters reported that "FBI investigators are examining whether Russians suggested to Kushner or other Trump aides that relaxing economic sanctions would allow Russian banks to offer financing to people with ties to Trump, said the current U.S. law enforcement official."
Waters' letter to the CEO of a major global bank which has complex major dealings all over Wall Street might take one's breath away unless you have been closely following the serial crime spree that Deutsche Bank has been conducting in other corners of the financial markets in the U.S. and abroad.
In January of last year the U.S. Justice Department announced a $7.2 billion settlement with Deutsche over its improper issuance of mortgaged backed securities and dubious lending practices. The Statement of Facts released by the Justice Department at the time of the settlement included the text of what those inside the bank knew about the fraud as it was occurring. DOJ officials wrote:
"Deutsche Bank also knowingly misrepresented that loans had been reviewed to ensure the ability of borrowers to repay their loans. As Deutsche Bank acknowledges, the bank's own employees recognized that Deutsche Bank would 'tolerate misrepresentation' with 'misdirected lending practices' as to borrower ability to pay, accepting even blocked-out borrower pay stubs that concealed borrowers' actual incomes. As a Deutsche Bank employee stated, 'What goes around will eventually come around; when performance (default) begins affecting profits and/or the investors who purchase the securities, only then will Wall St. take notice. For now, the buying continues.' "
Deutsche Bank was criminally charged by the U.S. Justice Department in April 2015 and allowed to enter into a deferred prosecution agreement. The charges were related to its role in manipulating U.S. Dollar LIBOR and engaging in a price-fixing conspiracy to rig Yen LIBOR. (LIBOR is an interest rate benchmark used to set consumer loan rates.) At the same time, a bank subsidiary pleaded guilty to wire fraud for manipulating LIBOR. The settlement cost Deutsche Bank $775 million in criminal penalties.
Read More @ WallStOnParade.com