by Mike Gleason, Money Metals: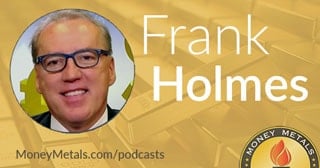 Coming up we'll hear from Frank Holmes of U.S. Global Investors. We'll ask Frank about his outlook on gold during the remainder of 2018 and he'll also tell us why we should be very leery of taking any financial advice from newly appointed Trump advisor Larry Kudlow. Don't miss my conversation with Frank Holmes, coming up after this week's market update.
As the first quarter of 2018 comes to an end, the gold market finds itself trading fairly close to where it began the year. Every time gold looks like it's on the verge of breaking out, it gets pushed back into a stubbornly persistent trading range.
With today's trading holiday due to Good Friday, gold prices will end the week down 1.6% to $1,326 an ounce. Silver finished down 1.3% to $16.39. Platinum is off by 1.9% to $933 an ounce. And finally, palladium checks in at $953 on the heels of a 2.7% decline since last Friday's close.
Click HERE to listen
Of late, neither spot silver prices nor gold mining stocks have showed relative strength versus gold. They don't necessarily have to do so ahead of a major breakout, but they would be expected to confirm a gold breakout by going on to outperform as momentum traders jump in and bid up the smaller, more volatile markets.
Although gold is looking lackluster on the charts, it did – unlike silver, platinum, palladium, and the mining sector – manage to put in a slight gain for the quarter. That marks the third straight quarter of gains for the yellow metal. They aren't the kind of gains that grab headlines, but gold appears to be establishing some stealth long-term momentum as it continues to build a major base from which to launch.
Here's another indicator that stealth buying momentum is building: Inflows into gold exchange-traded funds are on the rise. Holdings in gold ETFs have risen 43 tons so far this quarter, according to Bloomberg. That marks the eighth quarterly rise in the past nine quarters.
In addition to exchange-traded funds, a whole new category of precious metals ownership is emerging in the form of the blockchain. This week Canadian gold mining major Goldcorp helped jump start the launch of digital gold platform VaultChain by committing 3,000 ounces of gold.
Unlike a digital crypto-currency that is backed by nothing tangible, digital gold platforms promise to be backed by real physical gold. The concept of digital gold could start catching on with more and more Bitcoin holders if the leading crypto-currency continues to shed value. This week Bitcoin prices fell back toward the $7,000 level. Bitcoin began the year at over $13,000 and traded as high as $19,000 last December. Where it goes next is anybody's guess.
Forecasting moves in precious metals markets isn't much easier, though they do have a lot more history behind them. They also have and a more certain future in terms of sources of demand. Gold and silver will always be sought after for jewelry and specialized industrial applications. Precious metals will also continue to serve as money to some extent.