by John W. Whitehead, Rutherford Institute: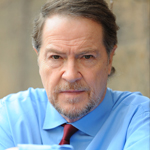 "In that dramatic scene on Calvary's hill three men were crucified. We must never forget that all three were crucified for the same crime — the crime of extremism. Two were extremists for immorality, and thus fell below their environment. The other, Jesus Christ, was an extremist for love, truth and goodness, and thereby rose above his environment. Perhaps …the nation and the world are in dire need of creative extremists." —Martin Luther King Jr.
Just as police states have arisen throughout history, there have also been individuals or groups of individuals who have risen up to challenge the injustices of their age.
Dietrich Bonhoeffer risked his life to undermine the tyranny at the heart of Nazi Germany.
Aleksandr Solzhenitsyn challenged the soul-destroying gulags of the Soviet Union.
Martin Luther King Jr. called America on the carpet for its color-coded system of racial segregation and warmongering.
And then there was Jesus Christ, an itinerant preacher and revolutionary activist, who not only died challenging the police state of his day—namely, the Roman Empire—but provided a blueprint for standing up to tyranny that would be followed by those, religious and otherwise, who came after him.
A radical nonconformist who challenged authority at every turn, Jesus was a far cry from the watered-down, corporatized, simplified, gentrified, sissified vision of a meek creature holding a lamb that most modern churches peddle. In fact, he spent his adult life speaking truth to power, challenging the status quo of his day, and pushing back against the abuses of the Roman Empire.
Those living through this present age of militarized police, SWAT team raids, police shootings of unarmed citizens, roadside strip searches, and invasive surveillance might feel as if these events are unprecedented, the characteristics of a police state and its reasons for being are no different today than they were in Jesus' lifetime: control, power and money.
Much like the American Empire today, the Roman Empire of Jesus' day was characterized by secrecy, surveillance, a widespread police presence, a citizenry treated like suspects with little recourse against the police state, perpetual wars, a military empire, martial law, and political retribution against those who dared to challenge the power of the state.
As I point out in my book Battlefield America: The War on the American People, a police state extends far beyond the actions of law enforcement. In fact, a police state "is characterized by bureaucracy, secrecy, perpetual wars, a nation of suspects, militarization, surveillance, widespread police presence, and a citizenry with little recourse against police actions."
Indeed, the police state in which Jesus lived and its striking similarities to modern-day America are beyond troubling.
Secrecy, surveillance and rule by the elite. As the chasm between the wealthy and poor grew wider in the Roman Empire, the ruling class and the wealthy class became synonymous, while the lower classes, increasingly deprived of their political freedoms, grew disinterested in the government and easily distracted by "bread and circuses." Much like America today, with its lack of government transparency, overt domestic surveillance, and rule by the rich, the inner workings of the Roman Empire were shrouded in secrecy, while its leaders were constantly on the watch for any potential threats to its power. The resulting state-wide surveillance was primarily carried out by the military, which acted as investigators, enforcers, torturers, policemen, executioners and jailers. Today that role is fulfilled by the NSA, the FBI, the Department of Homeland Security and the increasingly militarized police forces across the country.
Widespread police presence. The Roman Empire used its military forces to maintain the "peace," thereby establishing a police state that reached into all aspects of a citizen's life. In this way, these military officers, used to address a broad range of routine problems and conflicts, enforced the will of the state. Today SWAT teams, comprised of local police and federal agents, are employed to carry out routine search warrants for minor crimes such as marijuana possession and credit card fraud.
Citizenry with little recourse against the police state. As the Roman Empire expanded, personal freedom and independence nearly vanished, as did any real sense of local governance and national consciousness. Similarly, in America today, citizens largely feel powerless, voiceless and unrepresented in the face of a power-hungry federal government. As states and localities are brought under direct control by federal agencies and regulations, a sense of learned helplessness grips the nation.
Perpetual wars and a military empire. Much like America today with its practice of policing the world, war and an over-arching militarist ethos provided the framework for the Roman Empire, which extended from the Italian peninsula to all over Southern, Western, and Eastern Europe, extending into North Africa and Western Asia as well. In addition to significant foreign threats, wars were waged against inchoate, unstructured and socially inferior foes.
Martial law. Eventually, Rome established a permanent military dictatorship that left the citizens at the mercy of an unreachable and oppressive totalitarian regime. In the absence of resources to establish civic police forces, the Romans relied increasingly on the military to intervene in all matters of conflict or upheaval in provinces, from small-scale scuffles to large-scale revolts. Not unlike police forces today, with their martial law training drills on American soil, militarized weapons and "shoot first, ask questions later" mindset, the Roman soldier had "the exercise of lethal force at his fingertips" with the potential of wreaking havoc on normal citizens' lives.