from ZeroHedge:
Considerable improvements in battery technologies and technological advances in manned electric flight have spurred established automakers to begin examining the feasibility of flying automobiles, as both Audi and Porsche have mentioned their plans to develop flying cars to avoid congested highways.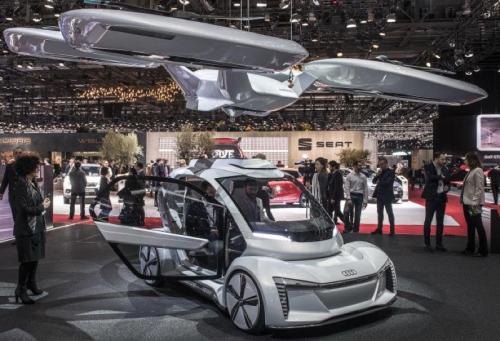 During the 87th Geneva International Motor Show, Audi and Airbus partnered with Italdesign to premiere Pop.Up Next, the first modular, fully electric, zero-emission concept vehicle system designed to alleviate traffic congestion in large populated areas.
Pop.Up Next is a modular system for multi-modal transportation that can travel on roadways and across the skies.
Audi, Airbus, and Italdesign developed the unmanned drone system that attaches itself to an electric vehicle – turning it into a flying passenger aircraft, as a joint reflection on how to address mobility challenges of large cities.
With traffic congestion projected to hugely increase by 2030, the companies decided to combine their engineering expertise to tackle how to best achieve a sustainable, modular and multimodal urban mobility system – giving rise to the Pop.Up concept.
Pop.Up Next consists of a three layers concept:
an Artificial Intelligence platform that, based on its user knowledge, manages the travel complexity offering alternative usage scenarios and assuring a seamless travel experience;

a vehicle shaped as a passenger capsule designed to be coupled with two different and independent electric propelled modules, the ground module and the air module. Other public means of transportation (e.g. trains or hyperloops) could also integrate the Pop.Up capsule;

– an interface module that dialogues with users in an entirely virtual environment.
The vehicle is a two-seat pod that can quickly snap into a chassis with four wheels and autonomous driving technology for roadway travel, or easily converts to a quadcopter drone for flying. While Audi has yet to release details on speed, altitude or range, the overall progress of flying cars seems to be a reality in the not too distant future.
Dr. Bernd Martens, Audi board member and president of Italdesign, said in a statement: "Creativity is needed where new mobility concepts for cities and people's diverse needs are concerned. Italdesign is an incubator for innovative technologies and radical prototyping."
Read More @ ZeroHedge.com