by Wolf Richter, Wolf Street:
Home prices jump to new record amid surging supply and declining real wages.
"The government, opposition, central bank (RBA), prudential regulator (APRA), FIRE sector (finance, insurance, and real estate industries) and their economists predictably deny the existence of a housing bubble. They firmly assert a severe downturn in the residential property market cannot and will not occur" — LF Economics.
So when home prices sagged on a monthly basis in May, the fretting began. But now it is ascribed to a seasonal quirk because in June home prices jumped again, according to CoreLogic:
In Sydney, home prices rose 12% in June year-over-year to A$880,000, with house prices up 13% and prices of condos ("units," as they're unceremoniously called Down Under) up 9%. On a monthly basis, they rose 2.2% from May.

In Melbourne, home prices surged 14% year-over-year, with house prices up 15%, and condo prices up 1.5% (more on that measly increase in a moment).

Since January 2009, home prices in Sydney have skyrocketed 111%, and in Melbourne 95%.

For the five capital cities – Sydney, Melbourne, Brisbane, Adelaide, and Perth – home prices rose nearly 10% in June year-over-year and are up 70% since January 2009.

Home prices fell 1.7% year-over-year in Perth, which is impacted by the mining bust, and 7% in Darwin.
And Sydney and Melbourne "are seeing rents rising at around 4-5% per annum," CoreLogic research director Tim Lawless told ABC News.
So how can people afford it all? Through soaring incomes? Hardly.
Nominal wages (not adjusted for inflation) are now experiencing record low growth. And real wages (adjusted for inflation) are declining. This chart by LF Economics shows those miserable trends in wage growth rates. Note how real-wage "growth" (red line) has now become a decline: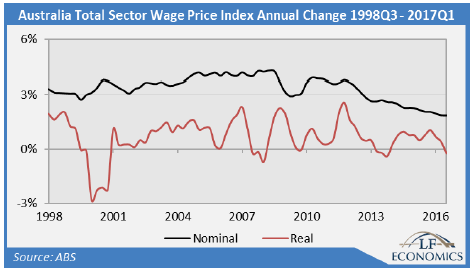 This real-wage problem arrives at a time of:
Surging housing construction, particularly of condos. CoreLogic's Tim Lawless pointed out that these "higher supply levels in the unit market appear to be creating a drag on the performance of the unit sector in specific segments." Hence the measly increase in condo prices in Melbourne.
Rising mortgage rates, just "when household debt levels have never been this high," Lawless warned. "It suggests households are becoming much more sensitive to these rate rises."
A crackdown by lenders on investors. Banks are now fretting over risks and record low rental yields in Sydney and Melbourne. Under pressure from regulators, they've raised rates for investors and are curtailing interest-only mortgages. "We are likely to see further tightening and repricing around investment lending and interest only lending over the coming months," Lawless said.
And there have been some wobbles in home prices over the past few months, including the month-over-month decline of 1.1% in May for the five capital cities, now largely brushed off as seasonality, since the 1.7% rise in June.