by Jim Rickards, DailyReckoning: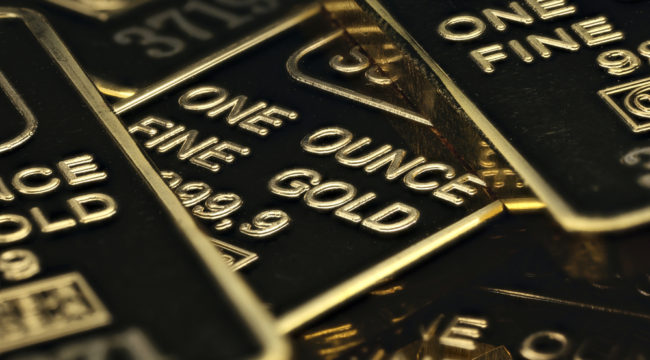 In the early morning hours of Monday, June 26, gold fell about 1%, from $1,254 per ounce to $1,242 per ounce, in a matter of seconds.
And that the equivalent of 1.8 million ounces of gold were sold at once. The 1.8 million ounce amount is equivalent to about 59 metric tons of gold. That's about 2% of the entire gold mining production of the world for a full year. No one sells that amount of physical gold.
Besides, mining output is almost 100% pre-sold these days, meaning that if you wanted to buy that much gold directly from a mine, you couldn't do it, because it's already committed to fulfill existing contracts.
Forget about getting gold elsewhere too.
The largest gold mining country in the world, China, produces almost 500 metric tons per year. But China also prohibits the export of gold, so you can forget about sourcing physical gold from China.
Gold refiners won't sell you any gold either. The largest refiners are working triple shifts around the clock to meet existing demand. Many refiners are having trouble sourcing gold in the form of doré from mines, scrap jewelry or existing bars to keep their refining operations going.
Gold is also leaving the custody of commercial banks and heading to nonbank storage at secure logistics providers such as Loomis and Brinks. These transfers do not change the total supply, but they do diminish the floating supply available to support the leveraged paper gold products offered by London Bullion Market Association dealer banks.
In effect, more and more paper gold is poised on top of on an inverted pyramid with less and less physical gold at the base.
All of this information about acute shortages of physical gold relative to demand is well documented. In addition, I have gathered a large body of firsthand confirmation of these facts.
In the past year I have visited gold vaults in the U.S., U.K., Australia and Switzerland. I have visited gold refineries in Switzerland. I have visited gold mining operations in Canada and the U.S., and I have met with major bank and nonbank gold dealers in the U.S., U.K., Canada and China.
Everywhere the story is the same. Physical gold is scarce, difficult to source and already spoken for when you can find it. Meanwhile, demand for physical gold remains robust.
I met with the heads of gold dealing for two of the largest banks in China, ICBC and UOB. They both told me that demand for physical gold among Chinese retail buyers is strong, despite some reports to the contrary.
Your correspondent standing on the Bund, a waterfront thoroughfare along the Huangpu River in Shanghai, China, during a recent visit. Behind me is the original headquarters building of the Hongkong and Shanghai Banking Corp. (now HSBC), built in 1923. While in Shanghai, I met with the heads of gold trading for two of the largest banks doing business there, ICBC and UOB. Both reported that supplies of physical gold were tight and demand remains high despite some reports to the contrary.
A gold refiner in Switzerland told me, "Jim, if you called to buy gold and I did not know you personally, I would not even return the call. We have none available."
With that as background to the physical supply-and-demand situation, why is the price of gold not soaring? That's how markets usually respond to tightness in supply.
A higher gold price would encourage more mining (although new mines take five–seven years to actually produce gold), which would increase supply and equilibrate markets at a new higher price point.
The answer is that there really is no true market for gold, just a rigged game consisting of physical gold and paper gold trading side by side as if they were one and the same. They're not.
The June 26 flash crash in gold is a good case in point. If I sold 59 tons of physical gold short and had to make good delivery, I couldn't do it, nor could a bullion bank or dealer. Given the situation I described, you'd be lucky to source 5 tons in 30 days; even that would be difficult for anyone other than JPMorgan or HSBC. I would ultimately default on the contract and face a lawsuit for contractual damages and possible fraud charges.
But in the paper gold world, it's not a problem.