by Frances Martel, Breitbart: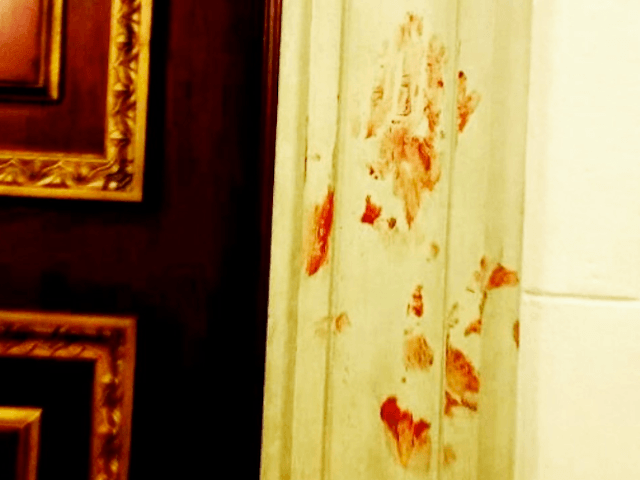 Socialist chavista gangs known as "colectivos" stormed Venezuela's National Assembly Wednesday – the nation's Independence Day – and kept hundreds of legislators and journalists hostage for eight hours, according to people who were later released.
Gang members also savagely beat legislators and protesters, staining the walls of the national legislator with blood and sending multiple lawmakers to the hospital.
The government of dictator Nicolás Maduro accused the victims of the violence of attempting to "murder" chavistas in a state television report.
Before the siege began, vice president and U.S.-designated "drug kingpin" Tareck El Aissami organized an event to commemorate Independence Day at the nearby Federal Legislative Palace, where he issued remarks calling for a second independence "against the Yankee imperialists" and said the National Assembly had "been hijacked by the same oligarchy that betrayed [Venezuelan founding father Simón] Bolívar."
El Aissami, Dolar Today reports, encouraged action to prevent an election organized by the National Assembly to replace socialist leaders. In a speech this year, Maduro promised any colectivo a firearm should he vow to attack the opposition, defying his own government's strict ban on guns.
Shortly after that speech, colectivos stormed the building, beating opposition members with pipes, shooting at them, and robbing anyone trying to escape the building. According to the Venezuelan newspaper El Nacional, more than 350 people were trapped in the legislative capitol building, including "108 journalists, 120 workers, 94 lawmakers, musicians present to play the national anthem, and special guests." In addition to shooting at, hurling stones at, and beating lawmakers, the colectivos detonated fireworks inside the building, injuring dozens.
The National Assembly published graphic photos of the attack on its Twitter account:
#5Jul vea en imágenes el #AsaltoDelGobALaAN pic.twitter.com/aMjIeF7PoL

— Asamblea Nacional (@AsambleaVE) July 5, 2017
La Patilla reported that the siege appeared to begin around 11 a.m. local time, and opposition authorities announced at 7:30 p.m. that "most" of those trapped inside had finally been freed. While trapped, some legislators posted videos on social media urging international human rights activists and free nations to act on their behalf.
#Urgente un mensaje al mundo. Los diputados de la @AsambleaVE estamos secuestrados. #5Jul pic.twitter.com/mMaVi7en5M

— Rosmit Mantilla (@rosmitm) July 5, 2017
Socialist thugs violently attacked those outside, as well. Videos on social media show lawmakers forced to brawl with these thugs to defend themselves from a gang beating:
VIDEO | Diputados Franco Casella y Simón Calzadilla se enfrentaron a paramilitares chavistas y frenaron asalto al Parlamento #5Jul pic.twitter.com/6hgbZBuPYX

— Alberto Rodríguez (@AlbertoRT51) July 5, 2017
Once released, those taken hostage said they witnessed multiple assaults and robberies of individuals who attempted to break through the mob of attackers to leave the building. Witnesses said the Bolivarian National Guard (GNB), responsible for the security of the building, was "indifferent" in the face of the attack. In contrast, GNB soldiers have beaten, shot, and run over unarmed protesters with armored tanks in the past three months.