by Pam Martens and Russ Martens, Wall Street On Parade: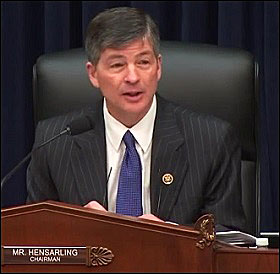 When members of the U.S. House Financial Services Committee question Fed Chair Janet Yellen this morning following her testimony on monetary policy, many Republicans on the panel will be posturing for their money masters who fund their political campaigns rather than asking questions that benefit the average American.
You can tell that there has been a Koch Network-corporate takeover of the House Financial Services Committee by the statement that its Chairman, Jeb Hensarling, plastered on the front page of the Committee's web site following the heroic actions of the Director of the Consumer Financial Protection Bureau, Richard Cordray, on Monday. Cordray reopened the nation's courts to millions of Americans who have been the victims of predatory actions by the banks that fund Hensarling's seat in Congress.
On Monday, Cordray went up against the most powerful players on Wall Street and the entire Big Bank lobby, and issued a final rule that restores the rights of citizens to sue predatory credit card companies and banks as a group in a legal technique known as a class action. Republicans in Congress should have heralded this move as a fundamental right under the U.S. Constitution and one of the very tenets on which this nation was founded.
One of the documents supposedly cherished by Republicans on the House Financial Services Committee is the U.S. Declaration of Independence. That founding document cites the tyranny of King George III and his infringement on access to the courts by citizens as a grievance. The founding fathers wrote that King George III "has made Judges dependent on his Will alone, for the tenure of their offices, and the amount and payment of their salaries" and, furthermore, he was "depriving us in many cases, of the benefits of Trial by Jury."
The U.S. Bill of Rights' Seventh Amendment to the Constitution guarantees the rights of citizens to access the nation's courts. It reads:
Read More @ Wallstreetonparade.com