by Joshua Caplan, The Gateway Pundit: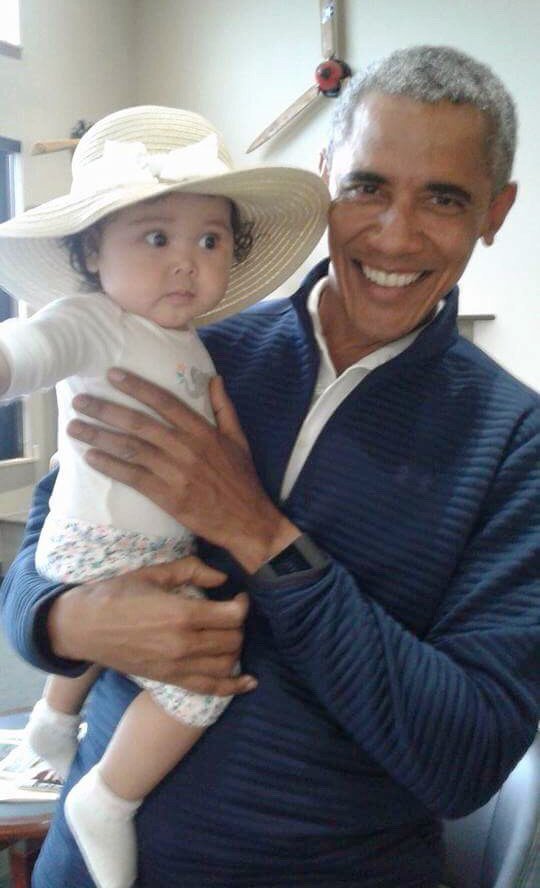 A viral selfie of former President Obama, a young mother and her six-month old baby girl is making the internet rounds today. The trio snapped the shot at Anchorage International Airport, and of course, the mainstream media fawned over it.
Yahoo reports:
An Alaska mother is cherishing cellphone photos she snapped of her wide-eyed 6-month-old baby in the arms of former President Barack Obama.
Jolene Jackinsky was at Anchorage International Airport on Monday looking for an airline when she ended up in a waiting area for private flights where a man she thought looked like Obama was sitting.

"As I got closer, I thought: Oh my God, it is Obama," she recalled Friday from Newhalen, a small Alaska village where she's vacationing.

Obama then walked up to her and asked "Who is this pretty girl?"

They chatted about how fast children grow while Obama carried baby Giselle. Jackinsky took a few photos of a smiling Obama carrying Giselle, who was wearing a straw hat with a white ribbon.

Obama told them he was headed home from a vacation, Jackinsky said.
It's a cute shot, but something curious about the photo has been ignored by the mainstream media.
Obama isn't wearing his wedding ring.
Obama not wearing his wedding ring. Uh ohhhh pic.twitter.com/X44Iqt4qlp

— Lance in the City (@StarScream_Blu) July 8, 2017
Below are addition photos the trio took. No wedding ring in sight.
@BarackObama No Wedding Ring@MichelleObama is divorcee.

The Obama's living with a lie.@WhiteHouse@DonaldJTrumpJr@POTUS pic.twitter.com/IK3TWMI3ub

— AnwarCadde (@Anwar_M_Osman) July 8, 2017
Read More @ TheGatewayPundit.com