by James Quinn, Market Oracle: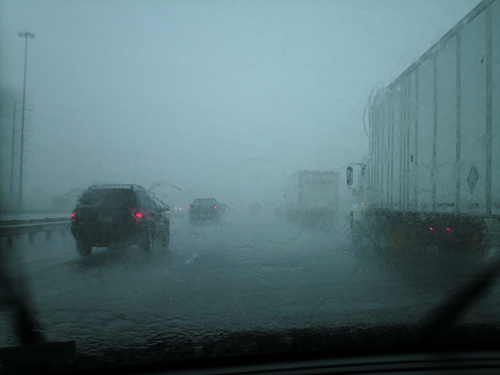 Several weeks ago I had to drive west on the Pennsylvania Turnpike to pick up my son after his sophomore year at Penn State. I've made this trip a dozen times over the last few years, since this is my second son attending Penn State, with a third starting in the Fall. It's a tedious, boring, protracted, four hour trek through the rural countryside of the Keystone State. During these trips my mind wanders, making connections between the landscape and the pressing issues facing the world. I can't help but get lost in my thoughts as the miles accumulate like dollars on the national debt clock.
More often than not I end up making the trip in the midst of bad weather. And this time was no different. The Pennsylvania Turnpike is a meandering, decades old, dangerous, mostly two lane highway for most of its 360 mile span. Large swaths of the decaying interstate are under construction, as the narrative about lack of infrastructure spending is proven false by visual proof along the highways and byways of America.
The real infrastructure crisis is below ground in urban shitholes where 100 year old water and sewer pipes fail on a regular basis, but bankrupt Democrat politicians divert their steadily declining tax revenues to bloated pensions of government lackeys. Infrastructure spending is only interesting to politicians if they can name it after themselves and have a ribbon cutting ceremony. Replacing water and sewer pipes before they explode isn't sexy, so it won't be done.
A winding two lane highway, with a speed limits of 70 mph, and jam-packed with 18 wheelers driven by sometimes sleepy and often aggressive truckers already leads to a pressure packed few hours. Add rain to the mixture and you ratchet up the blood pressure. Ramp that up to torrential downpours and heavy fog and you've got white knuckles, strained neck muscles and an occasional prayer regarding that big rig crawling up your ass. I was lucky enough to be faced with torrential rains and fog for the first two hours of the trip. I was tense, cautious, concerned and careful.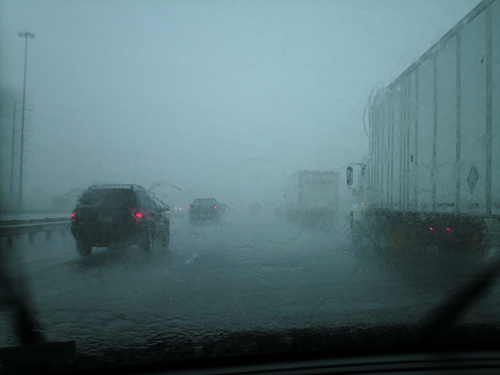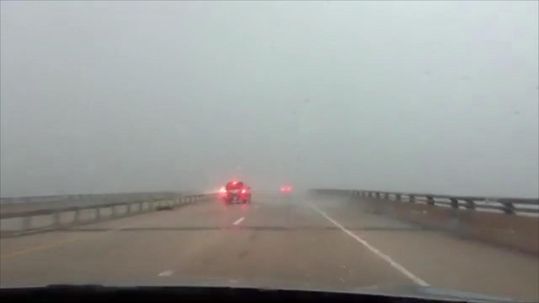 The way I felt during that treacherous drive is how I feel about the course our country and world is facing as the precarious and perilous portion of this methodical, but ultimately bloody Fourth Turning, reaches its climax. Since the election of Donald Trump in November, it feels like dark storm clouds have been gathering just over the horizon. I supported Trump for president and was among the few who believed the silent majority (aka deplorables) in flyover country were not being taken into account by the corrupt liberal mainstream media rigged polls.
I was elated that Hillary Clinton was not going to be my president. Trump's rhetoric regarding illegal immigration, repealing and replacing Obamacare, cutting taxes, reducing spending, reversing our interventionist military adventures, cutting government red tape, and keeping the Supreme Court from going further left, was music to my ears. I found his relentless assault upon the fake news media and left wingers to be extremely entertaining during the campaign and have continued to be amused by his pugnaciousness and daily tweet storm launched against CNN and the rest of the fake news media.
The focus of my writings and blog over the last nine years has been on the economic issues which imperil the future for my children and the children of millions of other hard working Americans. Trump's accomplishments thus far include filling the vacant Supreme Court slot with a conservative judge, backing out of TPP, backing out of the Paris Accord, reducing illegal immigration through enforcement of existing laws, and reversing numerous Obama executive orders.
As someone who concentrates on fiscal issues, I've been disappointed with many of Trump's cabinet selections, failure to lead on the Obamacare repeal and replace efforts, lack of progress on tax cuts, unwillingness to address the $200 trillion of unfunded welfare liabilities, inability to make progress with his wall, and his seeming capture by the military industrial complex.
Trump's victory has prompted an all-out assault from the violent left wingers funded by George Soros and spurred on by the unrelenting fake news media outlets. They will stop at nothing to discredit and destroy Trump's presidency. Violence on left wing campuses across the country, where they have safe spaces to burn and destroy, has begun to be met by Trump supporters willing to fight back when confronted.
The relentless fake news propaganda spewed by MSNBC, CNN, NYT, Washington Post and the rest of the left wing media incited a radical lefty to try and slaughter dozens of Republican congressmen. The false narrative of right wing violence has been obliterated, as left wing domestic terrorists are intent on creating a civil war in order to violently overturn the legal outcome of a fair election.
Read More @ MarketOracle.co.uk