by Mike Gleason, Money Metals: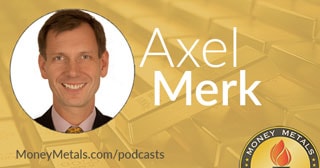 Coming up we'll hear from Axel Merk, President and Chief Investment Officer of Merk Investments and manager of the Merk Funds. Axel breaks down investor complacency, the risk of putting too much money into risk assets and gives advice on the proper weighting of precious metals in your own portfolio. Don't miss a sensational interview with Axel Merk, coming up after this week's market update.
Precious metals markets saw a bit of a relief rally this week off deeply depressed sentiment. The silver futures markets entered trading Monday with a record high in non-commercial speculative short positions. That's often a contrarian indicator which suggests bearish sentiment has gotten excessive.
The extreme silver short position doesn't necessarily mean a major bottom in silver prices is in. But it does indicate that a rally of at least some significance is likely to unfold soon.
Click HERE to Listen